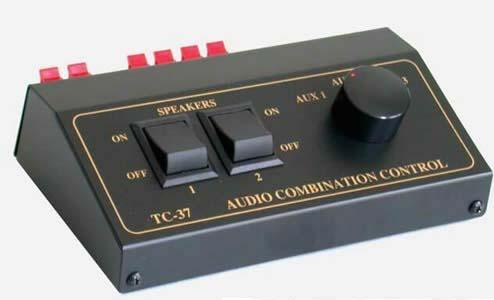 This audio system add-on combines a three-way source selector and a stereo speaker switch accommodating two pairs into one compact unit. If your stereo system has fewer source inputs and speaker outputs than you need or want, this model can solve both problems at once. You can connect and select between two speaker pairs where before there was only one. One AUX level input port (whether labeled CD, TAPE, AUX or whatever) can now handle three sources. That mini-system, compact office stereo or home theatre system you've always wished could do more now finally can. Add those outdoor speakers you've wanted on the patio, connect your TV's audio without having to unplug something else, or add a way to hear your MP3 player thru your office stereo. Better yet, do all these things at once!

$33.50 plus shipping
(see below)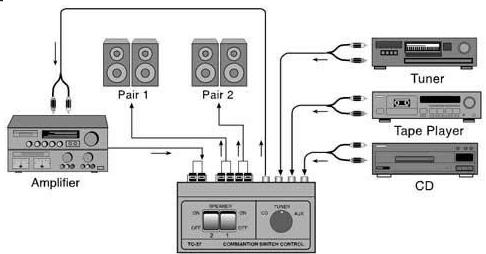 passive device, no power required
60 day defective exchange warranty; CE certified
4 pair of RCA jacks; 3in, 1 out
all connectors are gold-plated
200 watt speaker switch power rating
Works with speakers from 4 ohms to 16 ohms
sturdy metal case shields against interference and noise
Ready to purchase?
We offer multiple payment methods.

First, check that the shipping destination
(

USA, Canada or worldwide

) shown at the right is correct; you can change this by clicking on the small flags at the bottom. Then choose a payment method by clicking on a logo. Your transaction will be completed on the payment processor's secure website.

Because NO personal or payment info is entered here, your online purchase is as secure as possible.

Amazon Payments usage requires prior membership, but Google and Paypal are both happy to accept any major credit card. All three methods provide immediate online and email payment verification; tracking and customs form information is provided when we ship to you (most orders are sent same or next business day).



USA (Priority Mail) shipping is

$6.00

Canada (USPS) shipping is

$11.00

Worldwide (USPS) shipping is

$17.00

Items shipped outside the USA may be subject to import duty, fees and tariffs as determined by the destination country; these costs are usually collected at the time of delivery and are the buyer's liability. We do

not

mark merchandise as "gifts" or otherwise falsify customs declarations.