$49.50 plus shipping (see below)



Do you have a line level source (TV audio, MP3 player, video game etc) which simply isn't loud enough? One that forces you to crank up your receiver or amp volume control, simply to match your other sources? Or perhaps you need to run a long line between your TV audio line out and your receiver on the other side of the room, but find too much level is lost, or worse, interference from hum or a radio station is induced. This product is the fix. The TC-780LC provides up to 20dB of gain with any line level source, allowing longer cable runs or that "bump" you need to cure low volume issues. Used in series following one of our phono preamps (see the middle illustration at the right), the TC-780LC can be used to compensate for low output phono cartridges (B&O MMC series owners, take note!), so that you don't have to crank the volume every time you play a record. Or you can use it to add a volume control between a line level source and a power amp which has no level adjustment of its own. The 5-pin DIN in/out jacks match those found on older European brands including Bang & Olufsen,

Tandberg and Revox, while the RCA jacks match virtually everything else

. Connecting to the front panel miniplug jack automatically bypasses the rear inputs, allowing temporary hookup of iPods and MP3 players for listening or recording. Now available in both BLACK and SILVER! Click on the images to enlarge.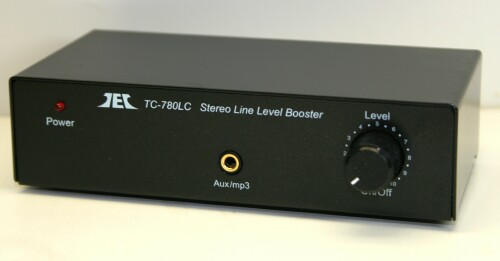 If connecting to a computer, simply substitute it in the diagram for the amplifier shown below.
Use the sound card's LINE INPUT jack,
NOT
the MIC IN.

Click on the diagram to enlarge.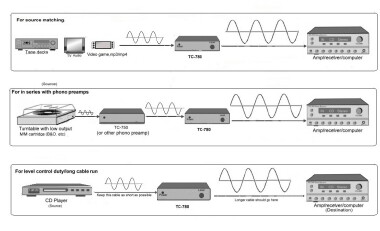 Any of the following labelled amplifier/receiver/minisystem input jacks can be used; AUX, TAPE IN/PLAY, LINE IN, CD, TUNER, MD (MiniDisc), VIDEO or DVD (use the L&R
AUDIO
jacks so labelled; ignore the actual
yellow
VIDEO
jack if present).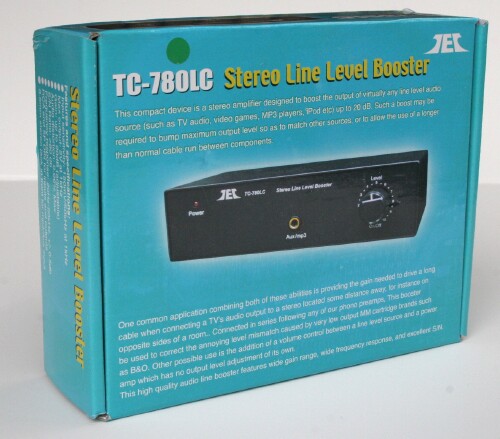 The TC-780LC is

NOT

intended for mobile use; connecting it to a vehicle
electrical system causes specific internal damage which is not covered by warranty.
Our TC-780i model is recommended for mobile / vehicle applications.