Need even more inputs? Our most versatile model combines exceptional phono preamp performance with three

additional

aux level audio inputs, then adds a variable output level control. Soft-touch switches control power on/off and source selection. While off, the TC-754 even remembers what source was last selected and returns to it when powered back up.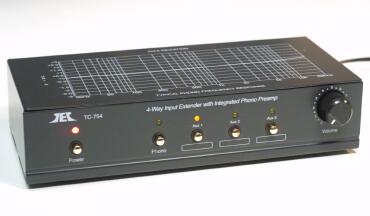 Black Version

$73.50 plus shipping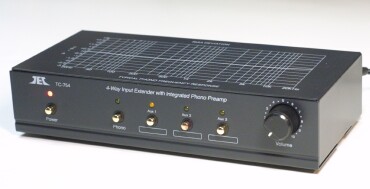 The output lev
el control allows connection to a power amp either directly or through an equalizer; or it can simply be used to fine tune the audio level sent to your computer sound card or receiver. Spectacular RIAA equalization accuracy and a S/N ratio of 85dB places the TC-754 among our top performing phono preamps; its additional features are extra icing on the cake!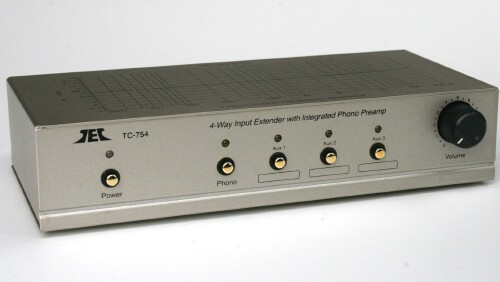 CLICK HERE
to check out TNT Audio
Online Magazine's
T-Preamp review
;
it includes some nice images of the TC-754!

If connecting to a computer, simply substitute it in the diagram for the amplifier shown below.
Use the sound card's LINE INPUT jack,
NOT
the MIC IN.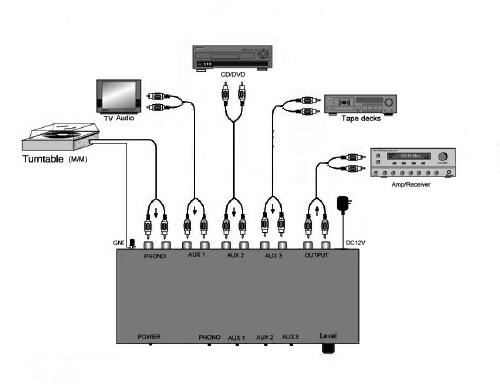 Any of the following labelled amplifier/receiver/minisystem input jacks can be used; AUX, TAPE IN/PLAY, LINE IN, CD, TUNER, MD (MiniDisc), VIDEO or DVD (use the L&R
AUDIO
jacks so labelled; ignore the actual
yellow
VIDEO
jack if present).