The TC-778 combines the proven low noise discrete RIAA design found in the TC-750 with the ability to select equalization much more appropriate for playing and recording 78rpm records. Dedicated rear input jacks accomodate a separate 78 table; or the same input can be used for both RIAA and 78 (for those of you who have one table capable of playing all record speeds). Simply set the rear panel switch to the position which suits your situation.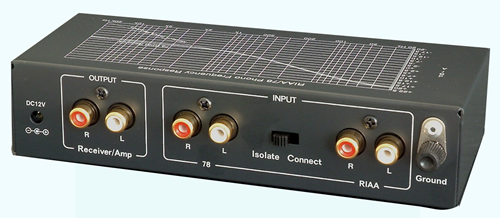 12 volt DC operation; will work anywhere in the world
one year defective repair or exchange warranty

RIAA freq response 20hz-20,000hz +/- 0.5dB, S/N ratio >80dB

CE certified; nice packaging suitable for gifting
gold-plated jacks and black anodized metal casing

Channel Separation 50 dB; Subsonic Filter at 10 Hz

ground wire terminal; power indicator
includes AC adaptor, RCA cable and miniplug adaptor
142mm long / 73mm wide / 37mm high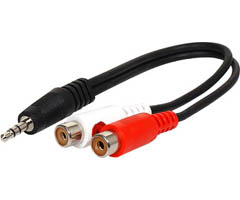 We include free of charge a stereo patch cord (for connection to a receiver or minisystem) and a mini-plug adaptor for use with computers.


If connecting to a computer, simply substitute it in the diagram for the receiver shown below.
Use the sound card's LINE INPUT jack,
NOT
the MIC IN.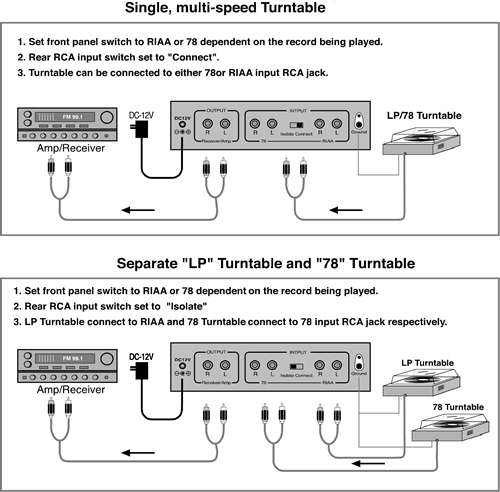 Any of the following labelled amplifier/receiver/minisystem input jacks can be used; AUX, TAPE IN/PLAY, LINE IN, CD, TUNER, MD (MiniDisc), VIDEO or DVD (use the L&R
AUDIO
jacks so labelled; ignore the actual
yellow
VIDEO
jack if present). Plug your MiniDisc, TV audio, CD Player or whatever into the preamp's AUX input, and press
AUX

to hear.
Check out our feedback for this and other Phonopreamps.com
preamp models; you'll find LOTS of happy campers...