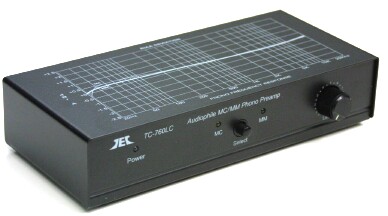 The NAD PP-2 is a great product; for years it has ruled the roost among inexpensive MM/MC preamps. But now our new TC-760LC aims to change that. Additional features like an output level control, ability to connect MM and MC turntables simultaneously (selecting between them at the push of a switch), and selectable hi/lo MC input inpedance make the TC-760LC the better value; superior specs make it the better choice as well. A price way below thePP-2 provides the frosting on this particular cake! Click on the images to enlarge
. Now available in both black and silver versions.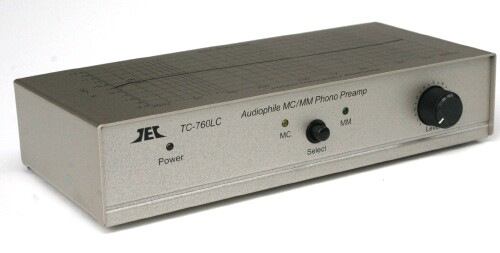 12 volt DC operation; will work anywhere in the world
Total harmonic distortion: <0.05%
RIAA freq response 20hz-20,000hz +/- 0.5dB
S/N ratio >82dB MM / >75dB MC ; gain MM 38dB / MC 58dB

Input sensitivity; MC 600uV / MM 3.0mV
selectable hi range (100 ohm) / lo range (20 ohm) MC input impedance

CE certified; nice packaging suitable for gifting
gold plated jacks and black anodized metal casing
Ground wire terminal; click HERE to see why you need this feature
power indicator; variable output level control
free RCA cable and miniplug adaptor included

Dimensions 180mm x 73mm x 37mm
One year defective exchange warranty

Silver Version
$73.50

plus shipping

(see below)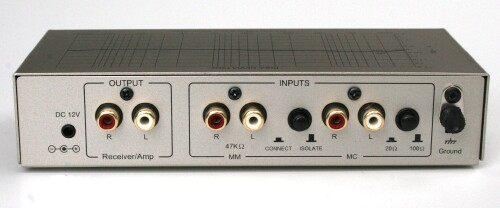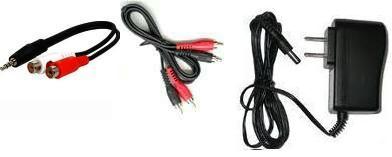 We include free of charge a stereo patch cord
(for connection to a receiver or minisystem)
and a mini-plug adaptor for use with computers.
The AC adapttor is also included.
If connecting to a computer, simply substitute it in the diagram for the amp/receiver shown below. Use the sound card's LINE INPUT jack,
NOT
the MIC IN. Click on the diagram to see a larger version.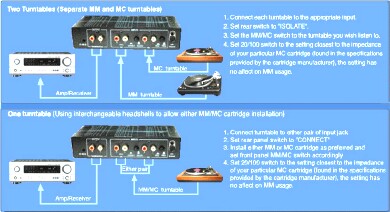 Any of the following labelled amplifier/receiver/minisystem input jacks can be used; AUX, TAPE IN/PLAY, LINE IN, CD, TUNER, MD (MiniDisc), VIDEO or DVD (use the L&R
AUDIO
jacks so labelled; ignore the actual
yellow
VIDEO
jack if present).