Silver Finish Advisory;

We've

recently

received several buyer reports that the silver model images on this website do not match the actual color of products they have received. We've looked thru our inventory and must agree; the majority of our current silver finish stock has a definite gold or sepia cast (see at right). Buyers should take this into account when choosing to order silver versions of our products.





Is it in stock? What domestic shipping method is used? When will I have it?



If we're advertising it, we stock it. Domestic buyers will receive payment confirmation from whichever processor (Authorize.net, Amazon Payments or Paypal) they've chosen to use, and shipping confirmation either from Paypal or Stamps.com, as well as directly from us

.

We use First Class or Priority Mail

for all domestic shipping aside from some of the larger items found on the Vintage Component Page; the shipping address you give us should account for this by providing a MAILABLE address.

We will

not

absorb the reshipping costs associated with packages which must be resent because a USPS-undeliverable address was provided by the buyer. Orders generally ship every business day, and most shipments arrive in less than a week. Use the email link at the bottom of this page if you need to contact us about your order.

(top)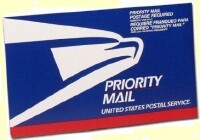 Can I track my domestic package enroute?
In general, yes. A
cceptance info and other enroute scan data is now being posted online as USPS enhances its abilities, and d
elivery confirmation is always provided. Vintage component page items purchased with Paypal and sent via UPS or FedEx ground are also trackable enroute.
(
top
)

We ship worldwide, and our payment processors support most countries and currencies. Fax or mail orders are accepted ONLY from the USA and Canada. USPS First Class shipping is used for all non-US destinations. This is are

not

normally a trackable method, although this varies from country to country. The customs tag number we provide via email allows acceptance confirmation (time and place of mailing via the USPS website), and delivery confirmation may also be also provided

if

this number begins with

LZ

.

We reserve the right to drop-ship some larger items directly from TCC in Taiwan using EMS.

We do this infrequently and very selectively, mostly to Far East destinations; but also to countries where delivery is problematic and EMS tracking can provide protection against pilfering or loss.






IMPORTANT

; Orders shipped outside the USA may require the payment of VAT, import duties and any other taxes the destination country sees fit to charge the buyer upon delivery;

these are the buyer's responsibility and are NOT included in what we charge for the product or shipping

. Some postal systems charge the recipient a brokerage fee as well. Some countries may use third parties other than the domestic postal system to deliver international parcels, and these entities may add a delivery fee to customs costs; Chronopost in France is apparently an example of this. Small items such as cartridges, styli and hubs may fall below the minimum amount eligible for tariffs. Because of NAFTA, most items shipped to Canada and Mexico are exempt from customs duty; however we CANNOT gaurantee this and you should inquire with your tax folks before purchasing if you are concerned about import costs.

All preamps we sell except for the TC-780i and TC-450 (for which AC adaptors are optional) include power supplies. Plug styles and voltages we stock are shown below; we use the guide available here to determine voltage and plug sent. You may need to obtain a plug adaptor to match your local mains plug style. This applies in particular to RSA buyers who will receive the EU plug style "C" shown below, as will

all

TC-400G/L buyers requiring a 220/240VAC adaptor.






How do I pay for my purchase with a credit card? Is it safe?



We offer two extremely secure online payment methods which accept credit cards: Authorize.net, and Paypal.

Becoming a Paypal member is not required

;
if you choose not to join, they simply collect your payment and shipping info for us just like any other credit card processor would.
Those who do join gain the major benefit of not having to re-enter their payment and shipping info whenever they make purchases on eBay and elsewhere on the web where Paypal is accepted.
Neither of these payment processors share your credit card number or other private data with us. Transactions will appear on your credit card statement as "Paypal/Phonopreamps.com" or similarly. Credit cards which are accepted include both those found in the USA and overseas.
Authorize.net is a very large and well-respected credit card processor, and also can accept most echecks.
We also can process major credit cards directly for US and Canadian buyers choosing to utilize our fax/mail order option. Fax/mail payment is VERY secure on our end; only one person has access to fax reception and our PO box. Links to the fax and mail order page are found on each product detail page as shown below;


This website collects NO information from or about visitors. In the event that you make a purchase thru Paypal or Authorize.net by using one of the payment buttons provided, we will

not

use your email address, shipping address or any other info they provide to us to send you advertising, nor will we share this info with anyone for any purpose other than the fulfillment of your order or the resolution of order-related issues. Click on the logos below to view the privacy statements of our payment processors.

| | |
| --- | --- |
| | |




Where are the instructions?



Our preamps and switchers are simple and straightforward to use, and everything needed to connect and utilize them can be found on the back of the box or on our website's product detail page for the item purchased. The only caveat we would offer is to NEVER connect any of our preamps to a phono input on your stereo (or mic input on your computer); always use a line level input such as CD or AUX. This is clearly stated in the box instructions and on our detail pages; nonetheless (based on emails we receive), using PHONO or MIC is the most common cause of user hookup issues. Instructions for using our NAB hub adaptors are on our Hubs FAQ Page.
What does a phono preamp do, and why would I need one?



T
he output from a magnetic cartridge installed in a good quality turntable is MUCH lower than that provided by line level sources like CD or tape, and requires an additional stage of amplification. The recording process used to create records also adds equalization which must be removed during playback to restore proper tonal balance. Most older receivers and amps
included an additional gain and RIAA re-equalizer stage
, allowing direct connection of a turntable. Whether your equipment has this is easy to determine; look for PHONO on your source selector switch, and jacks labeled PHONO on the rear. Newer stereo equipment made after 1990 often has NO phono input; this is true of
most mini-systems and home theatre units, as well as many stereo receivers and amps. Manufacturers seeking to lower production costs began leaving out the phono input
because records and turntables are supposedly obsolete in today's world dominated by CDs and DVDs. In order to connect a turntable to these stereos, you need to first pass the signal thru an external RIAA phono preamp to bump the level and fix the equalization. This also applies if you're connecting a turntable to a computer sound card's line input so you can make CD-Rs from LPs; again, a phono preamp is needed to first add gain and tonal correction. We include the needed plug adaptor for computer use.
All

of our preamps connect to line inputs only; AUX, CD, MD, DAT, TAPE IN, TAPE MON all will work fine. A/V line inputs also can be used (simply ignore the video jack); these include TV, VCR, DVD, LINE etc.
Click on the diagram below to view a larger version.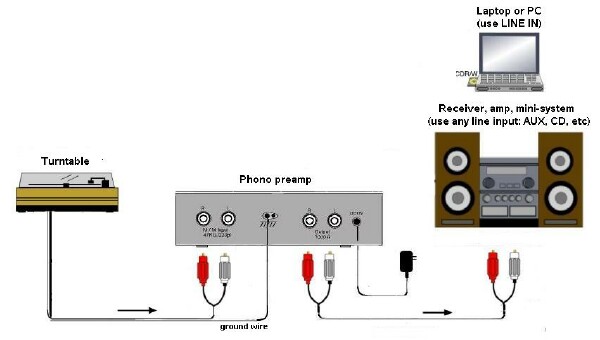 NEVER

use an RIAA phono preamp with other sources like iPods, MP3 players etc;
doing this guarantees overloading and massive distortion.
Only turntables require the 40dB gain and re-equalization a phono preamp provides. Our TC-780LC and TC-780i line preamp models are designed specifically for use with portable audio devices, TV audio and other line level sources which may need boosting to better match the inputs on your stereo or mobile audio system.


Many entry level turntables sold by Aiwa, Radio Shack, RCA, Audio Technica, Sony and others include internal phono preamps so they can connect directly to a line input, making the use of an external preamp like ours unnecessary. If
you're unsure whether
you have one of these tables, check your user manual;
it'll also tell you how to switch off or bypass the internal preamp so you can use our (superior) external one instead.
Since connecting two phono preamps in series results in clipping and distortion, NEVER plug a preamped turntable into our product, or our product into a phono input on a stereo.
(top)
Why not just buy a turntable with a built-in preamp, and maybe USB too? Isn't this simpler?
Yes, it is. Perhaps you recall the ancronym KISS... "keep it simple, stupid!" Good advice perhaps for planning a military campaign, but a

terrible

idea when looking for the best sound or digital copies from your records. Combo products generally give you the bare minimum of everything they include. We've yet to see a built-in preamp which has specs to equal our

least

expensive model, the TC-400G/L. Sharing a single power supply between the electrically noisy turntable motor and the very sensitive preamp stage is a truly dumb idea. The
preamped tables
we've looked at (most are made in the same factory) provide little or no shielding for the preamp section, feature horrendous plastic tonearms with pin type pivots like the ones found on kiddie record players, and have plastic platters. Audio enthusiasts made fun of turntables like this back in the 70s when they first appeared in department store compacts and mini-systems; now they're being shamelessly sold as component stereo equipment and labelled with big brand names.

And then there are those USB turntables... the ones they sell on the TV shopping channels and at the mall. Take all the bad stuff we had to say above about tables with built-in preamps
(all MM cartridge USB turntables have one)
, and add vinegar. Sure, the USB convertor in the table connects directly to your computer, bypassing your sound card and line input. This is simpler, and simple is good, right? Actually, not so much. Bypassing your sound card means bypassing its ADC (analog/digital convertor) and replacing it with the one in the table. Trouble is, the ADC in your sound card or laptop is almost certainly better. Many if not most good sound cards today can handle 32-bit word lengths, but most USB turntables are limited to 16. The record level controls in Windows and Audacity (our favorite FREE audio ripping program) are guaranteed to work with your sound card and its line input; they do NOT work with many USB turntables. This can leave you with MP3 files and CD-Rs that are either too loud, or too soft when compared with store-bought CDs and other music sources.
Lastly, at least a few USB "turntables" (this includes the ones trying to look like old-time record players) have CERAMIC cartridges; they not only produce inferior sound and digital files, they can trash the record in the process!
Who makes the preamps that Phonopreamps.com sells?
The preamps
and switchers we carry are made
in Taiwan
by
Translink Cables and Connectors
, also doing business there as
Technolink Enterprise Co

.
Some models we sell are labeled TCC, while others bear the TEC logo. All come from the same production facility and receive the same rigorous quality control screening. Every preamp is individually tested for power and proper audio at the factory before being shipped. We interact with our friends there on a near-daily basis, and are deeply involved in product design and production of the models we sell. Current models inspired by Phonopreamps.com include the TC-450, the TC-754, the TC-778 and the TC-760LC. TCC/TEC has produced switchers and preamps for a number of well-known brands, including

Recoton

,

Acoustic Research

and

MCM

. Beware of copy-cat products being sold on the internet and in Europe; at least two models (the TC-400 and TC-750) have been shamelessly copied by a mainland China knockoff producer. This might qualify as a compliment of sorts, if the copies weren't so shoddy...
Because of limitations in the LP recording process, an equalization curve must be applied to the music or other sonic content prior to it being cut onto vinyl, so as to reduce backround noise and sibilance. Removing this equalization affect (called the RIAA curve) and restoring the music's original tonal balance during playback is an important part of the phono preamp's job and differentiates it from other preamps used for microphones and musical instruments, which provide gain but no other modification of the original sound quality. Proper RIAA re-equalization during playback is a must in faithfully producing the original musical content without coloration or distortion. All of our phono preamp models include it.
(top)
Which phono preamp is best for me?
Obviously, the more money you invest, the better the performance and sound quality of the preamp you buy will be. Signal-to-noise ratio is the most important criteria; the higher the number, the lower the backround hiss level will be. This may not be particularly crucial if the overall playback system's quality is low (a cheap minisystem or sound card, for instance; both may generate enough hiss in their own right to obscure any added by the preamp), but matters a great deal when comparing LP fidelity to other sources like CD on a good playback system. Ability to faithfully correct RIAA equalization is another important sonic quality; higher-priced products do it better. Additional features like mike inputs or a power switch may be useful to one user but not to the next; buy only what you need. The TC-750 is our most popular model and provides super performance for a median price. An output level control is useful when connecting to a sound card, and we recommend the TC-750LC to buyers primarily interested in burning records to CD-R or MP3 files. (top)


Why is there no power switch on most phono preamps?
Why are there no AC cords on the ones Phonopreamps.com

sells?




It's a common belief among audiophiles that even modern amplifiers do not sound their best when cold; a preamp which is always powered requires no warmup period.
Phono preamps as a class draw almost no electricity whether in use or idle, so providing a means of depowering them isn't an economic issue. Many of ours have a power indicator so you can tell when they're plugged in, but again this is more of a convenience than a needed feature. Many stereo receivers and amps have a switched AC outlet on their rear which you can plug the preamp into if you want it depowered when not in use. Eliminating the AC cord and moving the power supply out of the preamp itself by utilizing an AC adaptor (commonly called a "wall wart" in the electronics business) has three major advantages;



A

) Separating the power supply physically from the preamp circuitry reduces circuit and AC noise, and improves S/N ratio.


B

) The power supply can be replaced in the event of lightning or surge damage without having to replace or repair the preamp.


C

) Our preamps can be powered by any clean source capable of generating the proper DC voltage, including batteries or the power supply in an existing piece of equipment, such as a mixer or console used by studios or DJs. They can be used anywhere in the world by simply obtaining a replacement AC adaptor made for the local mains voltage (120VAC, 220VAC, 240VAC,etc) at Radio Shack or its local equivalent, or by ordering one from us. (top)





What do I do with the ground wire on my turntable?
Most (but far from all) turntables have a ground wire connected internally to the chassis or frame and the metal tonearm tube to provide shielding and hum reduction. Failure to connect the ground wire to an appropriate ground on your stereo or computer will result in 60Hz hum (often sufficient in level to obscure the music). On some turntables (particularly Technics) this wire may be removeable via a screw-type terminal or plug-in connector; be sure to examine the rear of your table before assuming it does not require a ground wire. There ARE some turntables which utilize the RCA cable's shield to provide the chassis ground connection, so if no ground wire is present, none may in fact be needed; but always look to make sure it hasn't been amputated! On older amps and receivers having a built-in preamp, the ground point to which the turntable ground wire attaches is provided and marked as such (usually right near the phono jacks). Mini-systems and home theatre units often have an antenna terminal assembly including an AM ground screw or terminal; this can sometimes be used for the turntable ground wire. Many of the preamps sold by our competitors have no dedicated ground terminal; don't expect audiophile sound quality from any phono preamp which gives you no place to connect a turntable ground wire, since products which ignore this essential feature are generally lacking in other areas as well.
ALL
of our phono preamp models provide a ground wire terminal; this is by far the best place to connect the ground wire, especially if using with a computer sound card.
(
top)
What's the difference between moving magnet and moving coil cartridges
(and which do I have?)
What's a ceramic cartridge?
Moving magnet (MM) cartridges are the common variety found in component stereo turntables as well as older name-brand compact stereos and rack systems. They feature high output impedance (typically 47k ohms) and a removeable, replaceable stylus (what many people refer to as a needle);

MMs are the type all of our phono preamp models work with

. Moving coil (MC) cartridges are a rarified breed mostly popular with audiophiles. MCs
rarely have replaceable styli, and can cost more than than many of us spend for our entire stereo systems. If you have a moving coil cartridge, chances are you know it; you do

not

acquire one of these accidentally or by purchasing a second-hand turntable at the flea market.
MCs are low impedance devices (anywhere from 10 to 1000 ohms); a step-up transformer or "pre-preamp" must be inserted between the cartridge and an existing MM phono preamp. We do NOT sell such add-ons; instead our product line includes
two switch-selectable MM

or

MC preamps
(our TC-760 and TC-760LC models) which connect to a line input, just as our MM-only models do.
Buying one of these two models covers all possibilities
if you are unsure whether your cartridge is MM or MC,
and also allows you to switch types down the road should you choose.


Ceramic cartridges are the cheap, primitive type found on school, kiddy and fold-up record players, as well as the console stereos which were common before component stereo came along. Usually they have a "flip-over" needle (often LP on one side, 78 on the other) and horrendous fidelity.
Ceramic cartridge tables generally do not connect to a component stereo as they usually have built-in amplifiers and speakers, or are part of a console or compact (today's compacts often are designed to look like component stereo equipment, and are referred to as minisystems). If you do own a component type ceramic turntable (likely a record changer made in the sixties), it should be connected to a line input such as AUX,

not

to a mag phono input. Do

not

try to use one of these with a phono preamp; the result will be overdriving and distortion.
Most of the "nostalgia" record players found online and on the home shopping channels use ceramic cartridges; not only do they provide the look and the sound quality of the '50s, they give you the record wear too!
One play with a ceramic cartridge will ruin a record for good, so never lend your LPs out...
(
top
)
| | | |
| --- | --- | --- |
| | | |
| moving magnet | moving coil | ceramic |


How do I play or record from 78rpm records?


Several companies make outrageously expensive 78 turntables for audiophiles; these are beyond consideration for someone with a casual interest in archiving 78s to CD-R or MP3.

As a practical matter, most will choose one of the

two reasonably inexpensive routes that follow (both kinds of record changer mentioned below are easily found at tag sales and flea markets);



A

) Locate a ceramic cartridge record changer that has 78 on the speed selector (generally the cartridge will have a flip-over needle, with LP on one side and 78 on the other); hook it to a line or aux level input on your stereo or sound card (no preamp required), and have at it... fidelity isn't an issue here, but remember most 78s have no lead-in groove, so you'll have to cue up the record by hand; and keep a quarter handy, you'll probably need it to weigh the arm enough so it won't skip. Expect the results to resemble what you hear listening to music thru a telephone.

B) Locate a magnetic cartridge record changer that has 78

on the speed selector

. Look for the following makes; Dual, Elac, Miracord, BSR, Collaro, Garrard, PE, Impro. Many other brand names appeared on tables made by these companies (Realistic, KLH and Fisher are good examples), so keep an open mind. A few really old (50-60s) single-play belt drive turntable models (notibly Thorens) may have 78 as well. You'll then need to obtain a cartridge for which a 78 stylus is still available; we sell Audio Technica cartridges with 78 styli to fit them (CLICK HERE for a look at these).

NEVER try to play a 78 with an LP stylus; you'll ruin both the record and the stylus.

Tracking force (normally somewhere in the 1-4 gram range when playing LPs) will need to be set for 5-7 grams for reliable tracking of 78s. This option WILL require the use of a phono preamp unless your stereo has one built in. Fidelity will be only as good as a 78 is capable of providing (but far superior to the ceramic option), and remember that your phono preamp is mindlessly applying RIAA re-equalization

in error

to what you'll be hearing, since 78s had no or only rudimentary equalization applied during production. Our TC-778 preamp has switchable RIAA/78 equalization to deal with this issue. The more sophisticated CD burning software packages include filters and enhancements to "fix" 78 sound quality; my advice is don't expect much.

(top)






I'm getting distorted or overloaded sound. WHY????
There are six common causes for distortion when using a phono preamp, none of them the preamp's fault. You should determine whether one of them applies in this case before assuming our product is defective;



1)

The turntable already has a built-in preamp. All tables which provide a USB output and many others have this; usually the built-in preamp can be bypassed or turned off with a switch (look on the rear panel, or under the platter mat). Putting two preamps in series results in overloading or distortion. If you do not have the user's manual and are unsure whether your table has a built-in preamp, we can determine this if provided with the make and model.



2)

Our preamp's output is connected to a phono (or mic) input instead of a proper line level input (CD, AUX etc) as instructed in the box rear panel instruction. Just as in (1), putting two preamps in series results in overloading or distortion. Many computer sound cards use the same jack for both mic and line level inputs, providing a software switch (often labeled

attenuator

or

20dB cut

) in the audio management window. Most Apple laptops (and some desktops) have NO analog line input suitable for connecting a preamp thru. We recommend connecting thru a USB audio device such as our TC-ADUSB when this is the case.



3)

The turntable being used has a ceramic cartridge, not the magnetic cartridge phono preamps are intended for use with. Such a cartridge produces 100 times the proper output level, overloading the preamp. If you do not know what kind of cartridge you have, we can determine this if provided with the table's make and model.



4)

Input signal

WAY

too high; never connect an RIAA phono preamp to line level sources like iPods, MP3 players etc. Doing this guarantees overloading and massive distortion. Only turntables require the 40dB gain and re-equalization a phono preamp provides.





5)

"Mechanical" issues; possibilities include a dirty, worn or clogged stylus, tracking setting error (usually set too low), acoustic feedback (caused by the speakers too close to or facing the speakers) and rumble (turntable mechanical noise being picked up by the stylus; usually due to a locked suspension, missing rubber feet, a hardened idler tire or a bad motor).



6)

Settings on the receiver or home theater receiver are at fault. The next section covers this subject in greater detail, but it all boils down to this; "the first and foremost fix for poor phono sound quality when using a home theater receiver or system is

TURN OFF THE DSP / SURROUND FEATURES

." Read on to see why.


Why do my store-bought CDs sound different (or louder, or better) than my records (or the digital copies I make from them)?

Why are the vocals missing?



Answering this requires a basic explanation of some differences between digital music storage (including CDs, DVD audio, MDs, and MP3 files) and analog sources like LPs and cassette tape. That shiny new Dolby Digital receiver you may have recently purchased can also be partly to blame... The first and foremost fix for poor phono sound quality when using a home theater receiver or system is

TURN OFF THE DSP / SURROUND FEATURES

. Why is this?


FIRST;

stereo separation is the difference in content between the left and right channels that helps your mind recreate a full spacial sense of the original music stage (violins at the left, horns in the middle, piano on the right etc.), even though it comes from only two speakers. Phono records have a limited ability to provide discrete left and right images, so left channel content appears (at a greatly reduced level) in the right channel, and vice versa. In a proper mix, most of the musical content is shared by both channels and appears in the "middle". Separation is measured in dB; stereo LPs can provide 20-30dB depending on the music and the cartridge in use. Digital recordings have no such limitation; each recorded channel is discrete and can theorically remain so until mixed by your ear during listening. In practice, doing this sounds very artificial and unmusical, so CDs and other music is usually mastered such that separation levels are limited and not that much wider than those found on LPs (although the temptation to "tweak" separation and imaging when remastering music originally released on LPs produced some truly awful early CDs during the 80s). TV audio is entirely another matter; MUCH higher separation levels are often used to provide a massive spacial sense, and additional rear audio images allow you to sit right in the middle of a scene. A center front speaker provides the middle "fill", so the left and right front speaker signals contain much less shared material. The DSP circuitry and various separation schemes (Dolby, DTS) used to create these additional images and audio channels rely on imbedded digital cues contained in the original audio content of DVDs and TV broadcasts. Analog phono audio contains no such cues, and the phasing manipulation and other software tricks used by most home theater receiver DSP processors to create hall and other spacial affects from digital stereo audio sources like CDs fail miserably when playing records. One of the most common complaints resulting from this is that the vocals are missing or much softer than the rest of the music. The first and foremost fix for poor phono sound quality thru home theater receivers is

TURN OFF THE DSP / SURROUND FEATURES

. Setting the receiver to plain-jane two channel stereo cures most complaints that phono sounds thin or weak when compared to CDs (or the way you remember records sounding on your old stereo). Once you've done this and rediscovered what your records should sound like, you can then experiment with other settings to find usable ones. Some home theater receivers have "three channel" stereo; this puts your center speaker back to work and usually works pretty well with analog audio. We've seen some inexpensive "home theater in a box" systems which are so TV-focused that the DSP features simply cannot be turned off; do not purchase one of these if listening to music is important to you.



SECOND;

dynamic range is the difference in recorded level between the softest portion (<) of the music and the loudest (>), usually measured in dB. For digital sources, we'll portray this range visually as <------------->. For LPs and other analog storage methods, this range is considerably less; <-------->. You'll hear this difference as less punch and nuance, even though the average volume may be the same. Back when all audio storage was analog (e.g. records and tape), DBX and others made dynamic range enhancer devices that "stretched" the music during playback to widen the dynamic range. These gadgets had their limitations and could create hiss level "pumping" and other artifacts which were quite audible with headphones. With digital audio, only the live music being recorded, the bit rate chosen, and the human ear's ability limits usable dynamic range.

If you dub without modification a record to a digital storage method like CD-R or MP3, the dynamic range of the original vinyl is all you'll get on the copy. Backround surface hiss, pops and clicks will all be faithfully reproduced as well. More sophisticated audio dubbing software often includes the means to increase the copy's dynamic range and reduce or remove unwanted noises if you so choose, but take notice that other unwanted affects may appear in their place. Similar sophisticated digital techniques are used today when remastering older music originally studio-recorded on analog tape so as to widen dynamic range and minimize other limitations or flaws. CDs manufactured from these remasterings can sound very different from the original releases of the same music on LPs; whether they sound better is up to the listener to determine. Part of the reason playing records (as opposed to dubbing them to CD or MP3) has made a comeback relates to those differences; a significant number of listeners prefer the original unaltered "analog sound" (warts and all) obtained only by listening to the record itself.





How do I copy records onto CD-Rs?



Mechanically, no problem. Connect your turntable to the input on any of our preamps, and the preamp's output to the line input on your computer sound card or laptop (all of our preamps come with the required connectors). Your burner software does the rest. There are tons of resources on LP to CD-R and MP3 recording on the web; for one such page, GO HERE.

A Google search combining the keywords "CD-R burning", "MP3" and "LP" will yield plenty more like it.

(top)





How do I use the NAB hub adaptors you sell on my reel-to-reel?




Our TC-503 NAB hub adaptors now have their own help page; click

HERE

.

(top) Having trouble connecting to Paypal or one of the other payment servers? Authorize.net and Paypal both use secure servers to process your payment and protect your personal financial info. If you are using a proxy server to access the web and get a "connection refused" or similar error box when going to these sites, temporarily changing your browser setting to "Direct connection to the Internet" (Mozilla/Netscape) or unchecking "use a proxy server" (under

Connections/Lan Settings

in Microsoft IE5/6/7/8's

Internet Options

window) will usually allow you to proceed. If your computer is behind a corporate firewall, your systems administrator can provide the help you need.

(top)

Warranty Info and Returns
Products being returned for warranty service or exchange, for refund
or for paid repair (beyond the warranty period) should be addressed to;
PP.com Customer Service
PO Box 600
Huntington, Ma.
01050-0600
We do not require an RMA, but we do ask that you notify us before returning any item.
Please include copies of the invoice and any relevant email correspondence.
Items should be shipped only via USPS (or your country's postal system);
DHL, FedEx and UPS will not deliver packages addressed to a PO box.
Most of the products we sell carry a one year defective exchange or repair warranty from us. Exceptions are the TC-400G/L, TC-450, TC-750 and TC-750LC models which carry a limited lifetime defective exchange or repair warranty to the original purchaser. Here's what LIMITED means;

A

)
disassembly or modification of the product voids the warranty
B

) the warranty does not cover physical damage or other abuse (such as damage caused by connection to an AC adaptor other than the one we supply)

C

)
the stated warranty applies to the principal product itself (preamp. selector etc),

not

to included accessories
.
AC adaptors
and other accessories are warranteed against failure or defects for sixty days
.
Many if not most adaptor failures result from power surge or lightning exposure; they are designed to serve as fuses, thus preventing damage to the products they power
.
AC adaptor r
eplacements can be ordered using the links on our home page. Again, o
ur product warranty covers defects in manufacture and product failure; it does

not

cover physical breakage or other abuse (stylus and cartridge buyers take note; we hand inspect every item before shipment).
Many apparent product defects or failures are often actually hookup or inappropriate usage issues which can be resolved simply
by
emailing us via the button at the bottom of this page
. When doing so, please provide as much info as possible about what you purchased from us, the audio equipment our product is being used with and the nature of any issue needing resolution.

Products being returned for refund or exchange require our prior approval within thirty days of purchase. Such items must be in as-new condition and include all supplied accessories as well as the original manufacturer's gift box packaging.
Returns
which upon receipt do not meet these conditions
may be accessed a 20% restock (or refused and returned to the buyer).
Refunds are credited against the original payment method, and are limited to the purchase price of the item; shipping is not included.
Items with free shipping are assessed a fee of $2 if returned undeliverable or for refund.
About Us
Phonopreamps.com

and its subsidiary companies have been in the retail audio/video sales and service business for over 35 years. Today we are strictly an online business, and so do not offer local product pickup or a retail location; nor do we do business on the telephone. We're always here to answer your technical questions and product inquiries via the email link below, usually within 24 hours.

(top)