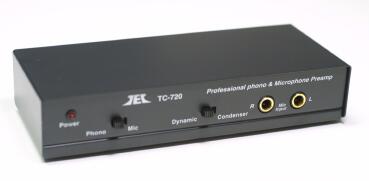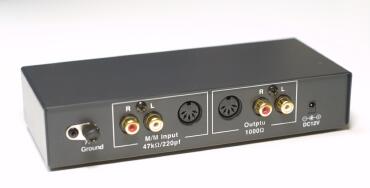 $47.50 plus shipping (see below)



This preamp features stellar phono specs and performance, then adds the ability to also accept two microphones, either electret (computer type) or dynamic, to allow stereo live recording. These mic inputs are

much

better than the ones found on most PC sound cards, because they work properly with high quality dynamic mics and musical instrument pickups which do not require a bias voltage (computer sound card mic inputs generally will not work properly with these, resulting in very poor reproduction). Nice retail packaging makes this a excellent gift choice for the budding musician or recording enthusiast who also wants to listen to to their vinyl collection thru a home theater system or receiver that lack a phono input.
If connecting to a computer, simply substitute it in the diagram for the amplifier shown below.
Be careful to connect only to the sound card's LINE INPUT jack,
NOT
the MIC IN.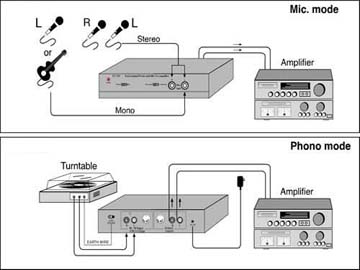 Any of the following labelled amplifier/receiver/minisystem input jacks can be used;
AUX, TAPE IN/PLAY, LINE IN, CD, TUNER, MD (MiniDisc), VIDEO or DVD
(use the L&R
AUDIO
jacks so labelled; ignore the actual
yellow
VIDEO
jack if present)