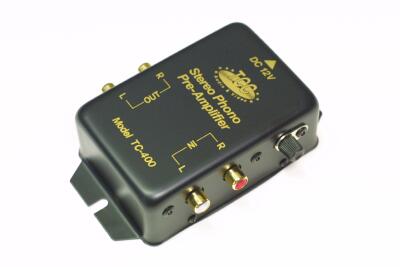 $29.50 plus shipping
(see below)
The TC-400G/L is a significant upgrade from the entry-level AC-powered preamps you'll find sold all over the internet, because its external power supply provides excellent isolation against hum and noise. Additional features include a ground wire terminal, gold-plated RCA connectors for input and output, and a LED power indicator. This is an excellent choice for use with, mini-systems, component stereos, and home theatre systems.
If connecting to a computer, simply substitute it in the diagram for the receiver shown below.
Use the sound card's LINE INPUT jack,
NOT the MIC INPUT.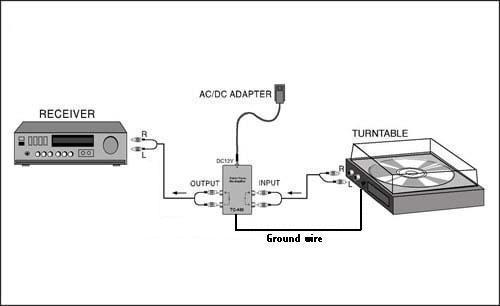 Any of these receiver/minisystem input jacks
can be used;
AUX, TAPE IN/PLAY, LINE IN, CD, TUNER, MD (MiniDisc), VIDEO or DVD
(use only the L&R
AUDIO
jacks; ignore the
yellow
VIDEO
jack if present).
Our TC-400s are custom-made with a dedicated ground wire terminal
which is the proper destination for your turntable's ground wire.
12 volt DC operation; will work anywhere in the world

power supply is external, for minimal noise and hum
limited lifetime product repair or exchange warranty

nice retail packaging suitable for gifting


ground wire terminal and power LED; CUSTOM MADE for us with these features

RIAA freq response 20hz-20,000hz, S/N ratio better than 50dB (typically 58-60)

includes

free

RCA cable and miniplug adaptor (see image at right)


AC adaptor

(

USA/Canada type A or overseas/EU type C) is included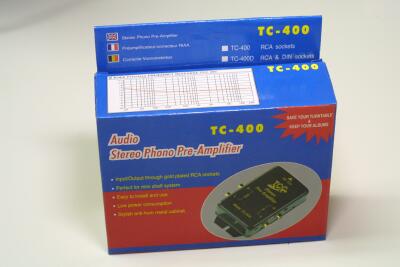 (note that the TC-400G/L is custom-produced for Phonopreamps.com,
and comes packed in a standard TC-400 gift box...)